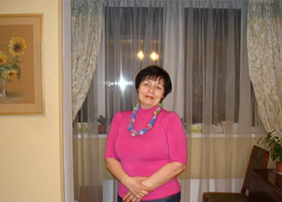 I was thinking what I would write about myself. Not often I speak about me.

I believe the way I am living and what I am doing tells a lot about me. My art also can tell you about the way I communicate with the world and how I see this world.

I will be glad to share with you my vision of happiness. I am a happy mom, I have two daughters and grandson. My daughters are grown up, they are professionals in their work areas and I am glad they have good values in life. I am very proud of them.

I am surrounded by people who inspire me for Arts and creativity. Success of my students makes me absolutely happy and fulfill my life. I am inviting you and your kids to the world of creativity and will be glad to help you to open up your own talent and your own soul. It can be your hobby, it can be your current profession and also it can help you to choose your future profession.

Arts and creativity do not have age and status. In childhood I started to draw and continued to do it in my personal and professional life. Drawing helped me to see amazing things in day to day life. Learn to see the beauty of the world and I will also be helping you in noticing all its aspects. Let yourself be creative and also just be happy!